# 1 Dynamic Pricing Tool for Airbnb, Vrbo, Booking.com, and more
Thousands of short-term rental managers and owners like you trust Beyond to help them get, grow and keep revenue
Request a demo to see how Beyond's industry-leading technology enable you to:
Take the guesswork out of pricing

Maximize revenue and occupancy

Take control of your business and your success
Beyond customers have seen
Beyond Helps You Take the Guesswork Out of Pricing
Enterprise-grade technology built from the ground up to help you maximize rental revenue and occupancy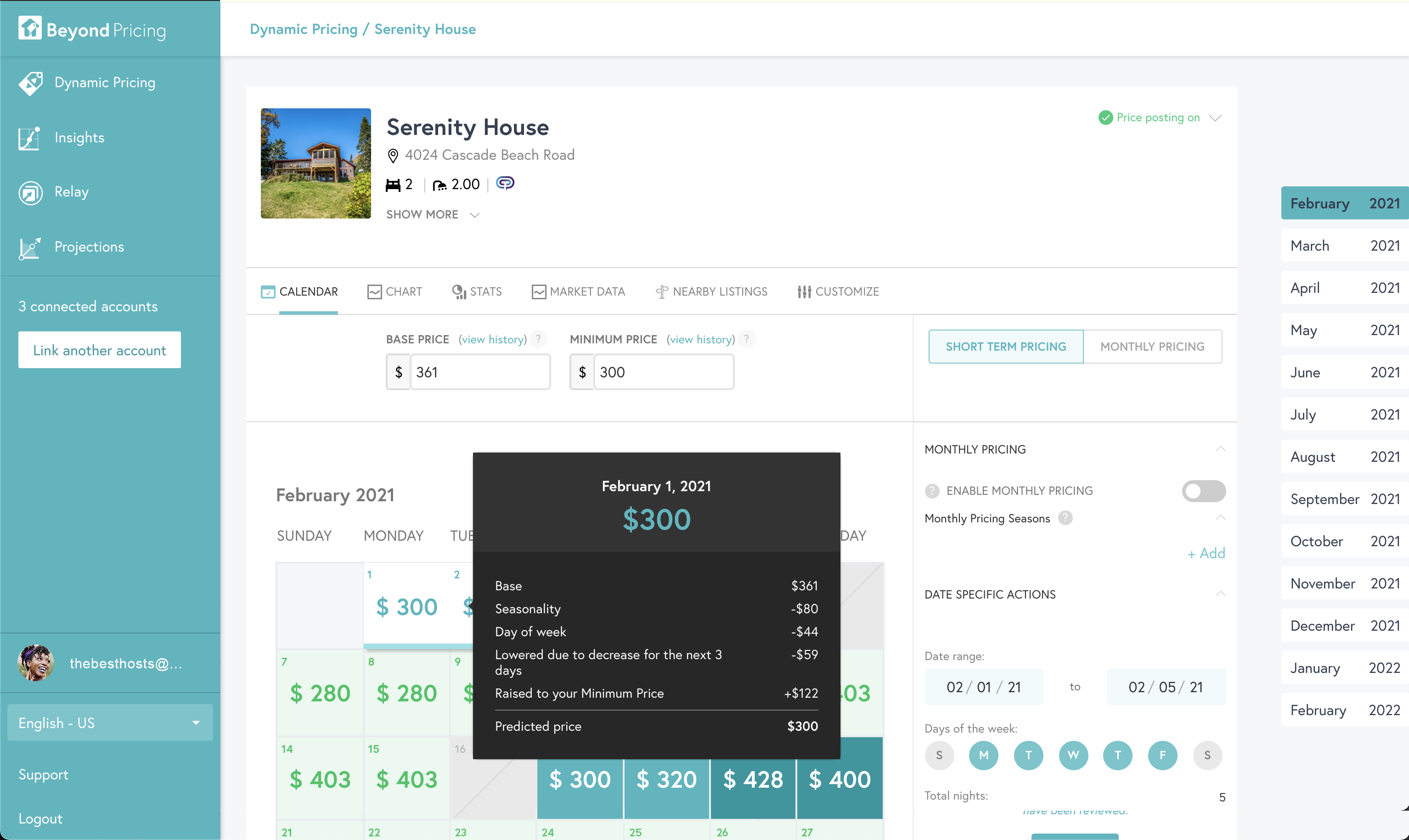 Our partners have seen as much as a 40% increase in booking
revenue by leveraging the tools on our platform.
"Beyond takes the guesswork out of pricing and increases confidence with our customers that we are nimble enough to adapt to market volatility."
⭐⭐⭐⭐
- Eugene C., VP of Operations
Vacations Perfected
"We didn't have to wait very long for the first results. In our first full month, we already saw an increase in occupancy with more than 10%."
⭐⭐⭐⭐
"Our goal is to operate as efficiently as possible while reinventing the way we deliver customer service. Partnering with Beyond lets us spend more time focused on those areas that separate us in the market."
⭐⭐⭐⭐
- Chuck S., CEO
Luxury Gulf Rentals
World-Class Customer Service and Dedicated
Revenue Management Analysts
We are just as proud of the customer service we provide as the tools we build. Our team of revenue management analysts is the largest in the industry and they are intimately familiar with the markets they oversee. They launch each market individually and proactively manage pricing based on the unique factors in those markets.

You can not only count on our amazing tools, but also on the dedicated support of industry experts who are with you every step of the way
The Best Dynamic Pricing Tool for Airbnb, Vrbo, & Many Other Property Management Systems
We have the experience to integrate with sites like Airbnb, HA/VRBO and Booking.com, and the expertise to build custom PMS integrations like Escapia, LiveRez, Guesty and Streamline.

Whatever needs you have, Beyond is here to meet them.