TALLY FOR BAREFOOT
Tally by Beyond brings modernized payments to Barefoot!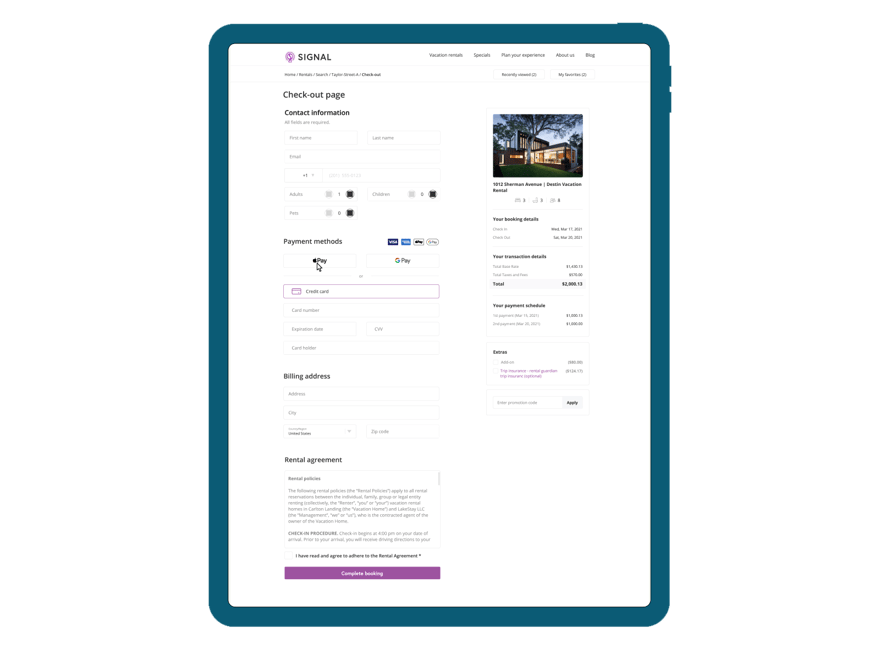 Managing payments for short-term rentals can be complicated, and property managers need reliable, user-friendly, and efficient payment processing solutions tailored to their needs. At Beyond, we strive to provide payment solutions with the right balance of functionality, ease-of-use, and affordability for vacation rental management.
That's where Tally, a Barefoot preferred partner, comes in - a payment processor designed specifically for vacation rental managers. With Tally, property managers can now enjoy a ready-to-use payment processing option that helps streamline operations, boost guest experience, and increase conversions.
Built Specifically for Vacation Rental Managers
After building software for vacation rental managers for a decade, the Beyond team noticed that innovation and customer support were lacking in the vacation rental payment processing space. We spent the last two years building a vacation rental focused payment processor, and have been using it ourselves for nearly two years.
The Tally team approached our friends at Barefoot seeing a great natural fit with their long-standing client base that is dedicated to trust accounting and the professional operations necessary to compete at the highest level of vacation rental management.
Innovative Payment Options
Tally wasn't designed as a one-size-fits-all payment processor. Instead, we understood the need for a more people-centered approach to accepting payments. With Tally, you can accept all major credit/debit cards, ACH payments, as well as offer the convenience of Apple Pay® and Google Pay™ for frictionless checkouts.
But that's not all. Our PCI-compliant payment gateway ensures that your transactions and data are handled with the highest level of protection. We've also implemented advanced fraud prevention and detection measures to establish trust and provide you and your guests with peace of mind.
Personalized Support
One of the standout features of Tally is the streamlined workflow and the support behind it. Property managers can access all their payment information in one centralized location. This includes everything from payouts to chargebacks. Tally's team of vacation rental veterans has your back, with onboarding assistance and automation of many of the more tedious tasks, such as reconciling payments, transactions, disputes, and more. This frees up time for property managers, allowing them to focus on more pressing matters. Easy installation and no development needed.
"I am excited to witness the transformative impact of Tally on Barefoot customers, enabling them to enhance their payment collection and management processes to drive efficiency and conversions. The Tally Barefoot integration was built exclusively for professional vacation rental managers - from simplifying payment collection to allowing accountants to run custom reports. Barefoot is proud to lead the way as the first Property Management System to offer this innovative payment-processing product."
At Beyond, we pride ourselves on being accessible and responsive. Just like our stellar Barefoot partners, we're ready to pick up the phone when you need us. Onboarding with Tally is quick and simple, with unbeatable rates and same-day underwriting.
Schedule a call with the Tally team to learn more about the vacation rental industry's newest and most modern payment processor. Elevate your booking journey and start delivering on the best checkout experiences with Tally. Learn how to connect your Barefoot account to Beyond.